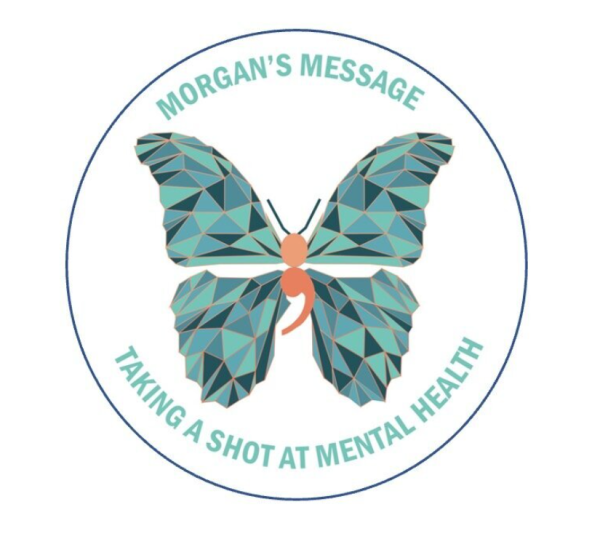 Ambitious student athletes across the globe are "taking a shot at mental health" through the ambassador program, Morgan's Message. The nonprofit organization strives to eliminate the stigma regarding mental health, aiming to prioritize it just as much as physical health within the student athlete community. "We aim to expand the dialogue on mental health by normalizing conversations, empowering those who suffer in silence, and supporting those who feel alone," says Morgan's Message. With over 4,000 ambassadors worldwide, the program teaches them the necessary skills to support and advocate for themselves and their communities.
Morgan's Message's ambassador system started out with student athlete volunteers from high schools and colleges, but then moved beyond that group amidst its success. Now, parents, former student athletes, athletic staff, and mental health advocates are among those eligible to volunteer. In the summer of 2022, the program was expanded to include sports clubs, travel teams, and youth organizations. The growing awareness has allowed individuals all over the world to get involved, including high school students at Robinson. 
Currently, Robinson is home to 15 Morgan's Message ambassadors all across different grades and a variety of sports. Senior Stella Hill introduced the Morgan's Message chapter to Robinson, getting her friends and peers involved with hopes to make a difference in the community. "I joined it because my soccer club has a chapter for Morgan's Message as well and I love the cause it's advocating for because I've had my struggles with playing soccer," said Hill. "I've played soccer my whole life and I've gone through a lot with the sport and with injuries and stuff like that." Though not directly affiliated with Robinson, the chapter has come a long way since starting out with Hill. Senior Miranda Wise, another ambassador at Robinson, said, "I joined it because I was really proud of Stella introducing a chapter to Robinson and I'd also always heard about it and I just wanted to do more with student mental health. I think sports always look positive when in reality, just like everything, it's a mix."
Morgan's Message is in honor of Morgan Rodgers, a student athlete lacrosse player who took her own life in 2019. Loved ones share Rodgers' story through the Morgan's Message organization and website. Rodgers was loved by all and gave 100 percent to everything she did both on and off the field. During her senior year of high school after she accepted an offer to play Division 1 Women's Lacrosse at Duke University, Rogers was combated with high levels of anxiety for which she received professional help and support. Nevertheless, she was excited about her future. However, before the beginning of her sophomore year at the university, Rogers encountered a severe knee injury. She spent the following months going through surgeries and recovery, but ultimately felt depressed in a situation she felt she had no control over. Those closest to her say she presented a happy face to others, but inside was suffering alone, leading to her suicide just months later.
Senior Campbell McCracken said, "I do cheerleading and diving and I feel like especially with those they're very mental sports and there's a mental aspect you have to get past in order to get new skills so I feel like throughout my whole life I've done sports like that. It's always been something that's important to me and something that I've had to work on." Coaching style can also have a major impact on an athletes perception of their sport and their self worth, either contributing to a negative or positive association. "I've just gone through a lot of coaches, especially at a young age that tore down my confidence and [who] were really just focused on winning and not their students. I had eventually gotten a coach who really worked my confidence back up and it really helped me in my sport and just in my life in general, so I want that to be something that can happen for everyone," said senior soccer player Alexa Haynie. "I also dive and I've loved dive forever, but when I started high school dive, the coach was really mentally degrading and I ended up actually quitting this year because of that, so I think it's important that everyone just focuses on their mental health, for what it's worth, so it doesn't overtake their life." 
Hill has struggled with coaches during her soccer career as well. "For a long time I had a coach who was really really hard on me and I was one of his least favorites and he made it very clear to me and it really affected me a lot," she said. "He was very manipulative and discouraging and it made me want to quit, but I knew that soccer was so important to me that I just wanted to keep playing and hopefully get through it and I eventually did and he was no longer my coach. I've realized it's about the people who I'm with and not necessarily how well I'm doing in the sport." In addition, Wise said, "it's been a matter of understanding that I do have feelings and mental health to prioritize even if it feels like a coach might not see that, but yeah I do think I've been really thankful to have teammates that have that same idea." 
With Hill combatting a hip impingement and Wise a rotator hook tear from softball, they feel it is very important to express the mental strain an injury can have on an athlete and their mental health. "I do think that people focus on the physical recovery of injuries, but the mental recovery of an injury is so difficult," said Hill. "Injuries are hard especially when it's towards the end of your athletic career, you think it's, 'I'm done,'but if you work hard towards it, if you just keep going, then that will also get a lot better and it's worth it. 
Co-founded by parents Dona and Kurt Rodgers, Morgan's Message provides a platform for friends and family to share Rogers' story as well as the opportunity for others to share their stories in a safe environment. Her legacy lives on through the organization and stands as a message for other struggling athletes that they do not need to struggle alone. "Morgan's message is clear: as an athlete there is no shame in seeking physical healthcare–the same should be true for mental healthcare," according to Morgan's Message.
"As Ambassadors, here at school we take more of a social media approach to it, so we advocate on social media and post things like ways to deal with performance anxiety or ways to talk to your coach if you're having trouble and stuff like that," said Hill. "We just focus on really spreading the message and making it known that we're here and that you can talk to us or your peers if you're having trouble." Robinson ambassadors also plan on setting up tribute games during the winter sports season to bring awareness to the cause. Wise believes that as ambassadors, they are starting to open up more conversations about mental health. "I've noticed that and I think this is really great, we're becoming very sensitive to mental health in our generation and I've noticed this year just a lot of my friends who are athletes talking about mental health," she said. "In fact, I think it's kind of stigmatized… usually you hear ambassadors that are girls and this year I'm getting to have open discussions with male athletes and we just are kind of trying to destigmatize the fact that mental health exists and that that's okay."   
Robinson ambassadors want student athletes to know that they are here to provide support and assistance for those struggling with mental health. "I think a lot of people feel stuck sort of in their sport, maybe with their team that might be a little bit more of a toxic environment, so I think finding teammates, friends, coaches, whoever you can go to to talk about it, and do your best to surround yourself with people who support you and then just focusing on yourself and your own mental health, knowing what's best for you and taking those steps to be able to handle it," said Haynie. Along the same lines of giving advice, McCracken said, "there are other people, even in your community that are definitely going through the same thing and no one is really alone."
Morgan's Message envisions a future with equalized treatment of both physical and mental health supported by peer conversations, empowerment, and a strong volunteer network. "It might not seem like it, but eventually it does get better and you can, as long as you persevere through it, it can get better, but don't ever sacrifice your mental health to pursue a sport," said Hill. "If it's really really affecting you then it's okay to take breaks and it's okay to talk to people and it's also okay to struggle with mental health in sports. It seems like it's not normal, but a lot of people go through it and it's not just you." The program wants a range of perspectives and backgrounds to provide diversity and equitable advocates for all who are struggling. Wise said, "change is normal and can be good and sometimes a sport that you really loved, you'll start to fall out of love with whether it be because of your coaches, your teammates, or just the experiences you had and it should never cost you your mental health. Sometimes the best thing you can do for your mental health is to make a decision that you didn't anticipate yourself making when you started playing the sport. You're not a quitter if you feel like you need to step back."
Mental health in sports and beyond can prove to be life threatening when one suffers in silence. If you or someone you know is struggling, there are resources available. Robinson Morgan's Message Ambassadors are here to help as well as other school resources. In addition, there are many mental health crisis hotlines that can provide you with someone to talk to. If you are interested in learning more about Morgan's Message at Robinson or the program in general, visit @robinsonmorgansmessage on Instagram or https://www.morgansmessage.org/.      
Story continues below advertisement