Widely known and loved by many at Robinson, Mrs. Mayes, the middle and high school creative writing teacher and the sponsor for Carousel,  is a part of what makes Robinson special. Through making students feel safe in her classroom and having a calm learning environment, she has quickly become known as an honest, kind, and hardworking educator. 
The second you walk into Room E219, you can see the effort put into the classroom. Painted ceiling tiles from former students, colorful walls with her students' work on display, and best of all- Comfortable chairs, couches, and cushions, all available for students.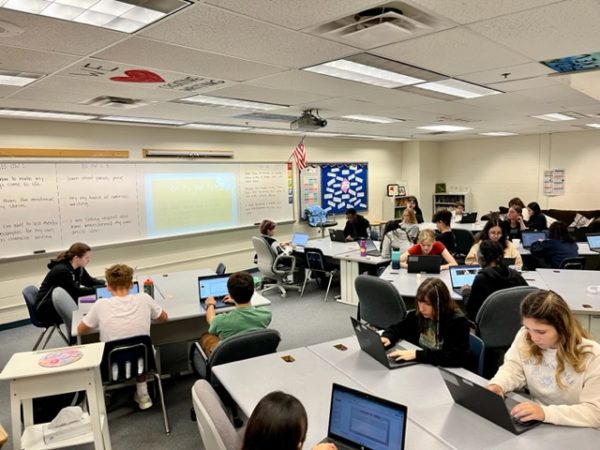 But it's not just the look of a classroom that makes a good learning environment. Freshman Sofia Waller, one of her students, says that "It's a very calm environment, I feel like I couldn't just walk into geometry and say how I'm feeling, but in Mrs. Mayes's class, It's just like- 'Hey, what's wrong?' And I'd be comfortable talking about it." Many other students expressed the same feeling of a welcoming environment, including Skylar-James Martin, a senior who said, "the vibe is always calming, and it's so nice to have such a chill class in the mornings- I don't have to worry about homework or lots of assignments from her class, and she really cares about all of her students." 
Another responsibility Mrs. Mayes holds is Carousel, an art and literature club that releases a magazine annually. "Although Carousel is a student led organization, Mrs. Mayes truly does provide so much assistance in her free time, from contacting printing agencies to working with me to organize and run meetings. I'm so grateful to her," said Jasmine Skarew, the President of Carousel. Mayes is invaluable to Carousel, helping to create a beautiful magazine every year, according to the club members at Carousel. A large chunk of the literature that is in Carousel, of course, comes from her students in her Creative Writing classes, ranging from poems to short stories. However, submissions to Carousel can be made from anyone at Robinson, as the point of Carousel is to display the artistic talent of all the students. Whether students are in her classes or not, Mayes will always recommend students to submit their art to Carousel. 
One thing that many students mention is that at the beginning of all of her classes, she will have an open discussion with her students starting with the question, 'Anything for the good of the group?' This prompts students to share their thoughts and to share the good things that are happening in their lives, from their plans for the weekend to getting accepted into their dream school. This creates a positive atmosphere and can help distract students from any stress they might be facing that day. If one were to still question the effect Mayes has had on her students, look no further than her past students, many of which coming by to talk to her despite no longer being in her class, and others actively recommending her class to other students. Junior Vynn Le said, "If you're a writer or just enjoy writing, Creative Writing is the best class to improve your skills and have fun- Plus, the teacher is amazing!" All of these details show that the students of Robinson are not quick to forget about Mayes, and that she is a teacher that means a lot for many Robinson students. 
Author's note
I had the pleasure of learning Creative Writing with Mayes for two wonderful years, and what I'll say about that is that if you were to talk to anyone who has taken her class, they would only have positive things to say about her. Without a doubt, Mrs. Mayes is one of those teachers that helps one through the tough times one may face in high school life with a smile on her face, and I'm thankful to have had the privilege of being her student.
Story continues below advertisement