Gregg Komitsky Profile
Gregg Komitsky, history and psychology teacher, jiu-jitsu champion, and recent Guinness World Record holder, is a beloved Robinson staff member. "I like Mr. Komitsky so much that I decided to take his psychology class sophomore year after having him as my history teacher freshman year," said junior Anna Flintoft. "He's very entertaining in class and he knows how to get everyone engaged in the topic."
Komitsky started with taekwondo, but was inspired to do jiu-jitsu by watching Human Weapon on the History Channel. "I went there and I was a third degree black belt thinking I'm all big and bad, and I walked up and I got killed [in jiu-jitsu]. Blue belts, white belts, yellow belts, they all just annihilated me, and as a third degree black belt it was humbling." That day, Komitsky ended his taekwondo career and joined a jiu-jitsu academy. He has been training since the age of 24 in martial arts, and started doing jiu-jitsu ten years later. 
In 2020, Komitsky competed in the World jiu-jitsu tournament among purple belts. "It was odd how calm I felt going into these matches, I felt ready, I knew I was ready," he said. After a first round bye, Komitsky defeated the Asian open champion, the Pan Am champion, and the winner from the other side of the bracket. After the championship fight, Komitsky describes his feeling of relief, and already looking for the next mountain to climb. "[In the movie Soul], there's a moment when he finally reaches his dream to play with that one person, and he walks out of the door and he's like 'phew, is that it?' and what I find is that the destination is never as uplifting as looking back at the journey," said Komitsky. 
After his jiu-jitsu victory, Komitsky decided to break the world record for fastest mile with a kick scooter in the summer of 2022. He was inspired by looking through the Guinness Book of World record with his sons when he saw the record for fastest mile on a scooter was 6:15. He bought a scooter that night, and started training the next day. On top of training for the jiu-jitsu world tournament five to six days a we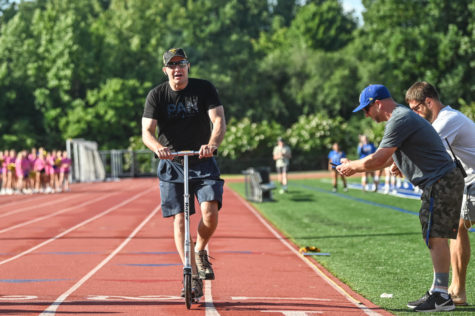 ek, Komitsky practiced scootering in the mornings with his nine-year-old son Andrew. "When I was little you're always reading the Guinness book of World Records and it's this thing that almost seems unattainable," he said.
Students and staff came to support Komitsky's record breaking mile at the track on Aug. 12. "It warmed my heart with everyone there, the support," he said. Komitsky scootered to the song "46 & 2" by Tool to pace himself since the song is six minutes and eight seconds. Paced by sophomore Caughnery Freese, cross country runner, Komitsky scootered four laps around the track, using his right leg around the turns and left leg of the straightaways. He completed the mile with a time of 5:43, setting the new record. 
Less than a month after his record, Komitsky competed in the World Masters Brazilian jiu-jitsu in Las Vegas on Sept. 1. Unfortunately Komitsky was eliminated in the third round, after a first round bye and a second round victory. After his third round fight, Komitsky said, "There were two minutes left and I was winning, but I held on to him and I looked at the clock and if I hold on to him I'm going to win the match. At a minute left I'm like 'I don't want to win this way.'" Komitsky then went for a different move to change the pace of the fight. "I wouldn't say I regret it because I chose the fight," he said.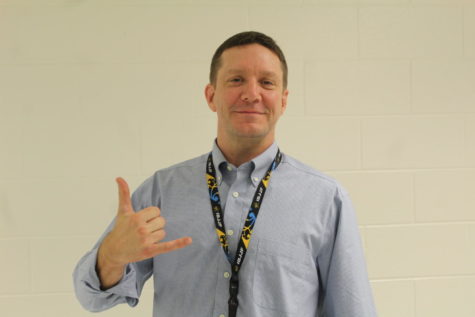 Since the world tournament, Komitsky has been planning his next feat to accomplish. "Winning is great, but I've learned so much more from losing," said Komitsky. In jiu-jitsu, he plans to return to the world stage if he is not promoted to a black belt. A student's professor can determine when they meet the requirements necessary to be promoted, however it depends on the level of understanding for jiu-jitsu the student has rather than a test or tournament they have to win. "If I could fight today or tomorrow, there's absolutely no way any of them would beat me," said Komitsky. "I'm just hungry now, I'm hungrier than I've been. If I don't get promoted, I'm going to go back, I'm going to go take it."
Komitsky said his greatest inspiration is his children. He has two sons, Alex and Andrew, ages 11 and 9, who initiated his interest in breaking a Guinness Record and watch Komitsky's last matches at jiu-jitsu tournaments. "They're inspiring me to be bigger and better," he said. Komitsky also spoke about his life growing up and the lessons he has learned. "When I was young, like 15, I got kicked out of my house, got kicked out of my school, and I really didn't like life too much. I found, through setting little goals and things I wanted to do with life, made me find that life really is awesome and worth living. Now as I grow older I'm setting these goals and trying to leave a legacy for myself and my children to follow. What I find is that it's never too late to achieve things."