Federal investigation of FCPS aims to address recent influx of suicides
The Center for Disease Control (CDC) has targeted Fairfax County Public Schools (FCPS) in an investigation relating to the trend of suicides that have drawn national attention and an influx of federal and state funding to address the issue of mental health.
Three teenage girls who attended area high schools within FCPS, including one from Robinson, have died in apparent suicides since the beginning of the school year. This is especially troubling considering the increased rate of suicides in FCPS. Since 2003, the Associated Press reports that 13 girls committed suicide in FCPS. This number does not reflect the 12 additional apparent suicides within the last year alone at Langley, West Springfield, Woodson, South Lakes, Fairfax and Robinson.
Federal and state funding has enabled all FCPS middle and high schools to conduct mandatory depression screenings for the first time ever.
"Last year we did a depression screening, but we call that an 'opt in'. You need to sign up for it and have permission to do the screening. This year, our administration supported us to do what we call an 'opt out', which basically means everyone is screened. If you didn't want to participate, you would opt out," said School Psychologist Diane Ross.
Last year, only 34 students participated in the depression screening. With the new mandatory screening, over 1,000 students participated. Over two weeks, grades 7, 9, and 11 were screened.
"We decided that 7th grade, 9th grade, and 11th grade were very big years for students in terms of transition. Even though we are only screening those grades, students can be screened at any time upon request," said Ross. "If you are a 10th grade student and someone has concerns, they can always ask that the student is screened. We screen students as needed."
Screening began with a 25-minute video on signs of suicide and symptoms of depression.  A short seven question survey accompanied the video.
According to the Youth Survey conducted by FCPS, 29.6% of students reported having symptoms of depression and 17% of students considered suicide. Suicide is the third leading cause of death among youth between the ages of 10 and 24, according to the CDC.
"We all know it is important to look out for your friends," said Junior Olivia Tippett. "Because suicide does happen."
With this screening and the grant funding, FCPS is hoping to repair its current mental health policies to support students with mental illness and increase awareness to combat the current stigma that prevails on a national level.
"Suicide is a very complex issue," Asha Ivey-Stephenson, an Atlanta-based CDC behavioral scientist, told The Washington Post. "It's something that is preventable, and it's a public health problem."
Students, who score high on the survey, indicating potential risk for depressive symptoms, are already receiving support from a team of mental health specialists, including social workers, counselors and Ross. Robinson has moved very quickly to ensure these students are safe and armed with a team of support.
"All we can do is begin having the conversation or opening the door for a conversation about suicide," said Ross. "The message I send to kids is that we are adults in the building who care about we want to support kids. But we can only help if we know about it, so unless we know about it, we won't be able to help. The screening is designed to open the conversation."
In addition to expanding outreach through these depression screenings, FCPS received 2.8 million dollars in state grant funding to be used over the next five years aimed at improving their mental health programs.
Teachers have also felt the impact of this increased focus on mental health by the county. A mandate by FCPS required all middle school and high school teachers to enroll in mental health awareness training. Principal Matt Eline required Robinson teachers to complete this training by the end of the first quarter.  CrisisLink business cards, which provide free and confidential help over the phone or through text for troubled teens, have been placed in all of the subschools.
"Considering everything that has happened over the last year or two, some students are not aware [of the warning signs of suicide] and [believe] that turning in your friend is a sign of betrayal," said Junior Emma Presing. "These are real issues among people and you could save someone's life. It's important, but only time can tell if it will make a difference."
About the Contributor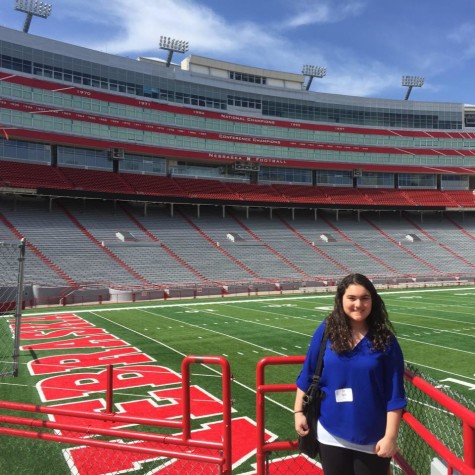 Sara Kline, Editor-In-Chief
Sara is a senior and has been on staff for four years. In her free time, she enjoys hanging out with friends and watching baseball. She will be continuing...