Baseball team looks good at season start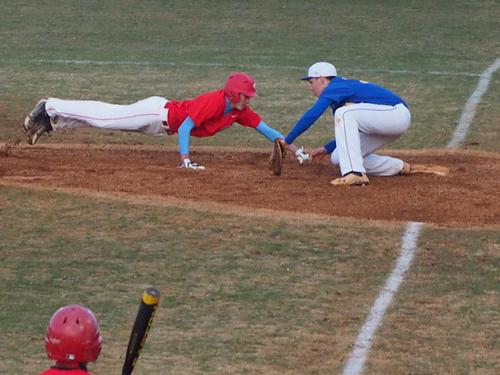 With a ten and three record, the varsity baseball team already has already tied their win total from a year ago. Despite losing division one caliber athletes from last year, the team has managed to improve themselves. This improvement from last year is due to several factors, according to some seniors.
"We improved in a lot of ways, some of them on the field, some of them off it," senior Chris Lohr said.
The team has improved off the field by increasing the amount of team chemistry.
"Now there is not the same amount of divide there was last year, now the upper and under classman actually get along and work together," Lohr said. "The team is now like one big cohesive unit now,"
Even though something such as getting along may seem insignificant, it has really contributed to the team.
"We all get along pretty well now, which is different from years past. As a team we are all working together, and the fact that we all get along well really helps that," senior Adam Sisk said.
According to Sisk, now that the team is more cohesive team mates can offer each other criticisms without negativity.
"Now that we are acting like one team, we can point out what each other are doing wrong without everyone feeling called out, which has allowed us to all get better," Sisk said.
This ability to point out flaws now allows team members to share their wisdom.
"Now we can help each other out, because nobody knows everything, and nobody is perfect," Sisk said. "We can share what we know with each other, what works and doesn't work, and it is definitely shows up in our games,"
While those off the field improvements are important, the on the field improvements have come in the form of changes.
"We have changed up our approach to hitting now, instead of focusing on the hitters count, which would be trying to guess what the pitcher is about to throw, now we focus on pitchers count, which allows us to get ahead in the pitch count," Lohr said.
The improvement can also be attributed to some individual players getting better.
"I have gotten better, although I didn't change anything from my preparation for this season from the last one," Lohr said.
Despite keeping things the same, Lohr's game has definitely improved.
"I think it is due to my increased confidence, now I am a lot more confident in throwing some pitches this year that I wouldn't have thrown last year," Lohr said.