Coming Soon: University Mall Renovations
A discount movie theater, Josie's and Saxby's are just a few of University Mall's attractions. According to the Burke Patch, University Mall is getting a face lift, and a $25 million renovation is planned to occur around November and December. These renovations have been in the works for five years.
Last spring, the Geo H. Rucker Reality Corporation presented a proposal to tell what would happen after five years of planning. The proposal said the renovations would start last summer; senior Katie Boswell expressed her disappointment about these delays.
"It was supposed to be renovated for the past six to seven years," senior Katie Boswell said. "It has gone nowhere and is going nowhere."
Now, the renovations are intended to start sometime this month or next month. There has been a delay of the renovations due to getting the county's permission and building permits.
The plan is for the 125,000 square foot shopping mall to increase to a 200,000 square foot mall. According to the Geo H. Rucker Reality Corporation, there will be six new buildings, new stores and new restaurants. Most of the stores and restaurants already there have renewed their lease for after the renovations. A good amount of stores will stay open for most of the renovations. There is also talk of either a Verizon or T Mobile store. There also might be a Wendy's with a drive through and an Italian restaurant. Students have opinions about what restaurants should be at University Mall. "[There should be] a Sonic or a Five Guys; if there were, you will have more kids go there," senior Griffin Caparelli said.
The overall look for University Mall will have a new urban feel with art-deco architecture. There will be a new courtyard with tables and trees. Freshman Megan Gulding said the new look will give University Mall an upbeat look. "It will become much nicer and it won't feel like you can get kidnapped there," Gulding said.
Many feel University Mall Theater is one of the Mall's main attractions. With its cheap four dollar tickets, it is an ideal place to go catch a movie. When the renovations happen, the movie theater will get larger. Gulding said she thinks the prices will go up since the theater will get larger and nicer.
Within the next few months, shoppers and students will be waiting to see if the renovations happen. If they start soon, they should be done about spring 2013. The renovations are a long time coming, and it will change the dynamic at University Mall.
About the Contributor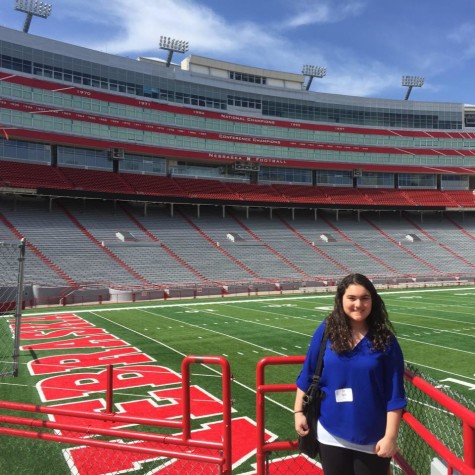 Sara Kline, Editor-In-Chief
Sara is a senior and has been on staff for four years. In her free time, she enjoys hanging out with friends and watching baseball. She will be continuing...