Students Prepare for Summer Trip to Honduras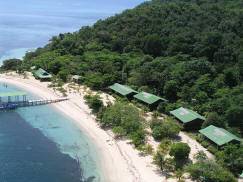 Honduras. It's not the most usual destination for a class trip, but it's where the biology department and 19 students will be heading this summer.
  
The class will be going on a two week trip from July 11-24. Half of the trip will be spent in the rain forest (known as the cloud forest), with the other half spent on the beach.
   
   The idea for the trip started last year when two biology teachers- Ms. Dygve and Ms. Thaler- met with a representative about Operation Wallace, an organization that studies the biodiversity in certain areas around the world and design management plans to help protect them. "The representative told us about the opportunity and we started publicizing it" said Biology teacher Megan Thaler.
   This is the first time the school has gotten connected with Operation Wallace and their efforts in environmental preservation. "One of the ways that they fund and support their research is by offering field expeditions to high school students" said Biology teacher Megan Dygve.
  It's also the first time the school has made a trip to Honduras, and the first time the teachers have been as well. Operation Wallace is set up in many countries around the world. "We chose Honduras because we thought it would be the most affordable and in Honduras we would be able to both marine science and rainforest science" Dygve said.
   
  For many students, the uniqueness of going on a trip to Honduras is why they made the decision to go. Sophomore Maddie Simpson said she'd been to Costa Rica before, but not Honduras. "I chose to go to Honduras because I know the cloud forests and the coasts of Central America are very beautiful."
 However the excursion won't just be work . " I am most  looking forward to the week when we are on a private island doing a coral reef exploration, white beaches, clear water, and scuba diving!" said Junior Kathleen Dodson. "It will be a new experience and I'm nervous and excited at the same time!" she said.
    
    With an abundance of activities planned for the trip, it can be sure that the excursion  to Honduras will be a memorable one.