Crew Team Reamains Upbeat, Despite Losing at Nationals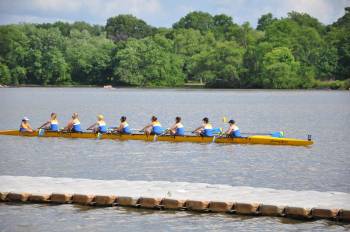 Last month our crew team traveled to Camden New Jersey to compete against in the 2012 USA National Championships. Each boat with the exception of the women's first eight was eliminated in the first round. The women's first eight was able to move on to the quarterfinals but came in last in their next race.
"We didn't get that far, we showed up and we did our best," said senior captain and men's first eight rower Jacob Peck.
The team did much to prepare and made sure to balance their days of hard work and rest in order to peak at the right time for their competition.
"We do 'hell week', which is the week after states and is very hard and then we start to taper off. We also do pasta parties and the coaches give us motivational speeches," said senior captain and women's first eight rower, Kate Mott.
Preparatory schools known for their rowing teams were in attendance including National Cathedral and Saint Joe's Prep.
"There team is ridiculous [St. Joe's Prep] they are all six foot seven, like 240 pounds and ripped," said junior eight rower, Nick Rehor.
Despite the team's performance at Nationals they did well in states. Mott believes this was an issue of the team's mindset going into the Nationals.
"It's always hard at Nationals because States is our big race and Nationals is a fun thing at the end," Mott said.
Mott feels their success at States came from a strong team effort.
"It's hard to pick out one person because there are eight people on the boat and all of our seniors were strong this year," Mott said.
Despite their lack of success at nationals many members of the  team still seems to have a positive attitude about their performance.
"I'm happy with what we did, making it to nationals is a big deal. We did the best we could our heat was very stacked the team that won nationals last year was in it," Peck said.
While most of the team was happy with their performance at nationals some of the rowers are disappointed in how the event transpired.
"It's a little frustrating, it's difficult to go that far you know, we just have to work harder and keep our goals in mind," Rehor said.
Mott said she gave her all, and was dissatisfied they still came up short.
"I have never pushed myself so hard for a race so it was disappointing but it was fun, and a good way to end my senior year," Mott said.
Morale still seems to be high now the season has drawn to a close and everyone appears to be satisfied with the season they have had.
Peck said, "I'm happy we made it to nationals not many other teams can say they did, I am not disappointed at all with the season."