Another side to Corbin
Different students have varying impressions of security guard Sandra Corbin, whether they are of her ensuring hallway lurkers have a pass or giving a friendly 'hello' to passersby. However, these outside appearances hide one of Corbin's afterschool passions.
Every Monday after the final bell, anyone can find Corbin in the Gold cafeteria, advising the Middle School Jewelry Club.
Corbin said she did not initially have an interest in making jewelry, but began the hobby when a relative invited her to participate eight years ago. Afterward, she began to take classes in the art.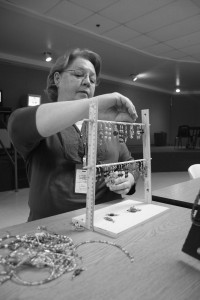 "[Making jewelry] becomes addictive," Corbin said.
Corbin said she started the club for middle school students as a way to get them involved in different extracurricular activities.
"I think it is great that she has a jewelry club because it is something for the middle school students to do that they haven't done before," security guard James Harrison said.
Last fall, the Jewelry Club sold its signature pieces for the first time at the Robinson Marketplace. Corbin said the club plans to sell at future school events, and possibly on Puoi scegliere tra i giochi Roulette , Blackjack o Baccarat. the stage in the cafeteria or afterschool.
Eighth grader Sylvia Dahlhauser said Corbin is a great security guard, and that she is surprised she runs a club dedicated to creating and selling jewelry. Dahlhauser said this is a side she did not expect Corbin to have.  
 "I wouldn't say what I do is teaching," Corbin said. "The girls are all very creative; they all have their own style and they do their own stuff. I mainly supply them with the materials."
Seventh grader Kristen Bellinghoven said Corbin introduced her to a new skill while making a necklace, and now, she can make them and give them as gifts to her friends and family. Bellinghoven said attending the Jewelry Club has taught her new skills and knowledge about jewelry, and has saved her both time and money.
"[Jewelry making] is relaxing," Corbin said. "You get immediate results from your work; instant gratification."