Hunter Fields Paints the way with Nickelodeon Mural
With a love and passion for art, senior Hunter Fields painted a Robinson themed Nickelodeon Mural, which is now displayed in the main hallway. After working on the mural over the summer and into the new school year, Fields is now able to have his work displayed for the whole school to see. Fields' passion and love for art can be seen in the mural through the painting of past and present Nickelodeon characters dressed up in Robinson sports gear.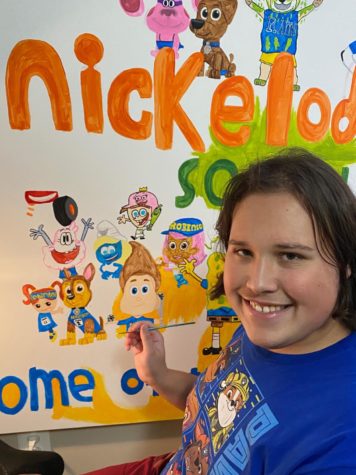 Hardworking, outgoing, motivated, funny, positive, and likable, are qualities Fields teachers use to describe him. "I think the mural is very creative," said Speech Therapist Ann Hardman. "He decided on his own that he wanted to do all his favorite cartoon characters and then he decided to add the twist that he put them all in different Robinson sports jerseys. Then he added little Robinson icons throughout the mural to kind of tie it all together which I thought was really cool." Although Fields has experience creating other art pieces as some of his work was displayed in last year's art show, this is his biggest piece yet.
The whole process of creating the mural originated when Hardman asked Fields to paint a ceiling tile in her office. From there, he wanted to paint on the wall. However, Principal Tracey Phillips said it was hard to paint directly on the wall, so instead she suggested he paint on a canvas. "It kind of just snowballed from there," Hardman said.
After graduation, Fields hopes to continue pursuing art. The work awareness and transition class (WAT) is a class designed to help special education students learn work skills that will benefit them after they leave Robinson. Through the WAT class, students receive a work site to practice these skills. Currently, Fields has employment at Fairview Elementary school, working as a teachers assistant in an art class. Fields does tasks like helping to set up the classroom, assisting students with supplies, and the cleanup process.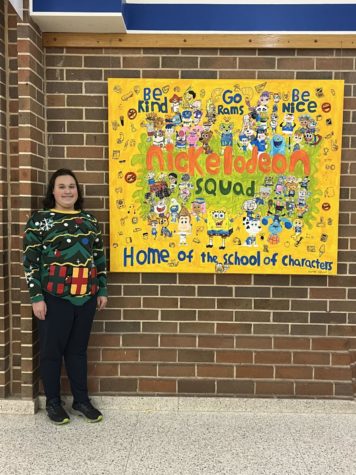 Cassidy Smith, Multiple Disabilities Teacher and Field's WAT class teacher, loves Fields' mural. With a mission to share his masterpiece with the school, Fields spoke with Principal Tracey Phillips to make it happen. "This was his idea and he ran with it and then kind of advocated for himself to Ms. Phillips to get it hung up in the hallway," Smith said. "I think it showed how much he's grown over the years and how much he's matured to kind of self advocate for himself and his artwork to get it up on the walls for all his peers to see."
When responding to how he hoped his peers will view his work, Fields said, "they will think the pieces of artwork might be amazing, cool, and creative." Fields' teachers hope they see the creativity and talent portrayed in the mural. When looking closer, his peers can recognize cartoons they use to watch with a connectedness to school spirit. Smith believes that Robinsons inclusion is shown through the display of his mural. "I think over the years Robinson has become more and more inclusive and him having a mural up on the wall will be just another example of that," said Smith.
Fields' mural was hung up on Dec. 26, 2022 and can be found in the main hallway near the 500 hallway. "I think he truly really loves art and I think he really likes to share his art," said Hardman. Fields' legacy will forever be a part of Robinson as students can continue to enjoy the mural for years to come. "Painting makes me feel proud," said Fields.