How Does Robinson Support Military Families?
The Military and Family Life Program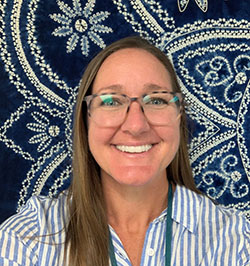 Robinson is home to over 5,000 students, many of which are military connected. Principles, teachers, and coaches are among some of the most well known staff members, but because of the school's large size and diversity, there are many positions students may not be as familiar with. Laura Leigh Gottula, the Military and Family Life Counselor (MFLC), works to support military connected students at Robinson.
With a military background herself, Gottula's role allows her to benefit military families and students by providing counseling in order to improve social, emotional, and academic skills. This is the first full year the MFLC position is available and services provided are free and confidential, unless the students safety is at risk. "For a MFLC, a typical day can look like going to the classrooms to do briefings on mindfulness or stress management," said Gottula. Being present and available to provide individual support and group therapy sessions for students who are military connected, is a major part of the job. Military and Family Life Counseling addresses issues like school adjustments, deployment, behavior, communication, grief, loss, and fear. 
In addition to working with students, Gottula works with employees. "The faculty and staff are very open to exploring the different resources available. Anytime faculty or staff identifies a military connected kid, I can provide support related to the resources that student might need." Through her job, Gottula helps military students through challenges and acts as a person to confide in.
With a dad serving in the Army, sophomore Kaitlyn Coward is a military child who had a different childhood than most kids. She was born in Chesapeake Virginia, moved to El Paso, Texas, Pennsylvania, back to Texas, and then Virgina. Before she was born, her mom and dad lived in Germany, Rhode Island, and  many other places. Coward said, "I've actually been pretty lucky. I haven't had to move that much. I've lived here for six years. My brother went to Robinson here and when we moved here, he was a sophomore so it might've been more difficult for him, but I was in elementary school so it wasn't that hard." Her dad has been gone two or three times throughout her life due to deployment and or other duties when she was around the ages of four and six. Coward believes that Robinson has supported her and her family as a military child. "I think it's a really great [school], especially for my brother, I can speak from experience. The people here are really good. The counselors were really good at helping him find which requirements he needed since the curriculums were different and just overall being really good and receptive for new students." 
Noelle Zorzi, an English teacher at Robinson, is military connected as well. Zori's dad served in the Air Force for 23 years. Her grandfather, uncles, and her brother have or are serving in the military too. Zorzi moved 10 times before getting to high school and she had to learn how to make friends quickly. She had to learn how to adapt more than her friends who had lived in the same place their whole lives. "I definitely had to get out of my comfort zone and be okay being me. Everyone else knew what was cool at the time and I was coming from who knows where and there's different trends, different fashion, and everyone always wanted to fit in, but the truth is you're not always going to fit in and you just have to be who you are." On her first day at Robinson, Zorzi had someone "assigned" to her to help her get to her classes and adapt to the new environment. Zorzi believes Robinson has an awesome military counselor now who wasn't around when she went to school here.
Throughout the years, Robinson has continued to support military families in many different ways. This has been accomplished by assisting students, educating staff, and providing an outlet of communication. "My favorite part would be just being connected with the military families. They're just super special," Gottula said.