Seniors in Sport
Athletes from the class of 2023 reflect on their time playing for Robinson
The word 'sport' can take many meanings. But for Robinson's senior athletes, their sports mean much more than any definition. By representing their school and playing alongside their friends, high school athletics can be some of the most enjoyable parts of a student's time in high school. These five seniors reflected on their experiences and memories from playing their sport at Robinson.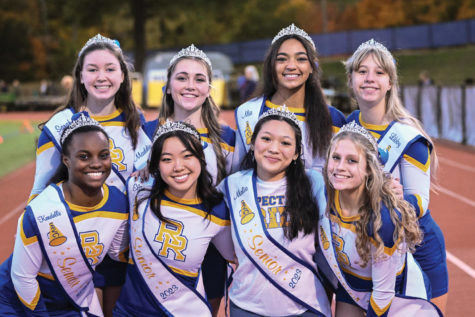 Eliza Watkins began her cheerleading career in her freshman year at Robinson. Having little prior experience in cheer, Watkins relied on hard work and her familiarity with dance to help adjust to a new sport. After the cheer team's district success in the last four years, it's clear that the efforts by athletes such as Watkins have proved instrumental in the team's success. Between district championships in 2019, 2021, and 2022, as well as finishing as runner-up in the 2022 state tournament, hard work is undoubtedly a key factor in the cheer team's dominance. "There have been times where something has looked really difficult, but when everyone puts in the work, we still can make it far," said Watkins. Cheer also serves as a way to teach the cheerleaders valuable lessons, says Watkins. "Don't focus on the negatives. Focus on the positives, and be there to support each other. It will take you a lot further in the end." Watkins will attend Virginia Tech in the fall and plans to study wildlife conservation and biology.
Abdul Yassin looks back on his time as a basketball player fondly. After beginning his Robinson career in his sophomore year, Yassin blossomed into a star on the varsity team, averaging team-highs in points (14.0) and rebounds (6.9) per game. Yet his favorite memories center around experiences with the team. "I loved it [the team]. Being together to play the sport that we love is a great memory. Even if we lost, we would be together to help each other get better," he said. Yassin remembers his Senior Night as an impactful moment in his basketball career. "It was the most people I've ever had come support and watch me play. It meant everything." The lasting dedication to the team exhibited by leaders such as Yassin is a quality that will be carried beyond the court. "It helped me as a player, but as a person too. It taught me to set goals and work to reach them". Yassin will attend NOVA Community College in the fall and plans to study Information Technologies.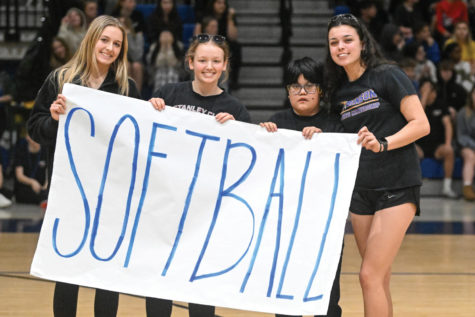 Christina Willemssen, a captain on the softball team and a player on the team since her freshman year, remembers last season's regional championship as a favorite memory. Despite the nerves of playing with a state championship on the line, Willemssen attributes the team's togetherness and unrelenting support for one another as a key factor in its success. "Having each other's backs, is something we've done all season. It's a struggle at times, but it helps in the end," said Willemssen. This willingness to work for something larger than themselves has allowed the softball team to achieve a 11-3 district record. "Your teammates truly become your best friends," Willemssen added. "It's more than just playing softball." Next year, Willemssen will play Division 1 softball at the University of Notre Dame and major in business analytics.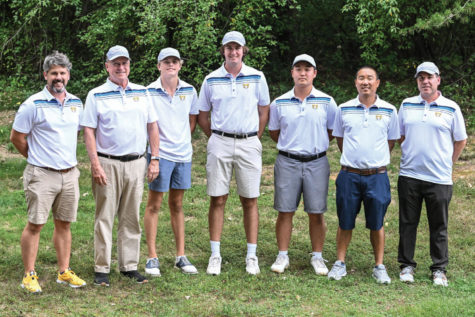 Teammates Ryan Caskey and Brandon Yu of the golf team have learned a lot from their four years as Robinson athletes. In a sport largely influenced by individual performance, the two athletes value self-improvement in their game. "It's easy to let struggles get you down and diminish your confidence, but you need to always imagine that the next round is going to be your best," said Caskey. Caskey, who qualified for the state tournament, credits his successes on the course to his work ethic. "Whenever you think you've mastered something, you haven't. That's what's so great about this sport… there's always something you can improve on." Yu echoed Caskey's emphasis on dedication, saying, "Don't try to compete with other people, just focus on yourself and try to push yourself to do the best that you can." While the golf team's individual growth is important, the team dynamic is critical to Caskey and Yu's success. "Working together is better than alone," said Yu. "Having teammates support you makes a big difference. It's nice to know people have your back." The two athletes leave Robinson with impactful lessons learned from their time in athletics. "It's a cliché, but perseverance is important," said Caskey. "Obviously you have to work hard to become a good player, and its a struggle. But it's all worth it in the end," said Yu. "[Being on the team] is a once-in-a-lifetime experience with great people." After they graduate from Robinson, Caskey will attend Virginia tech to major in forestry, while Yu will attend the College of William & Mary to major in chemistry.
The Robinson community wishes the class of 2023 the best of luck as they enter the next chapter of their lives. Congratulations seniors!