Depending on the person, style is something that could take months, or even years to develop and change. Our dress code gives students the freedom to express themselves through their clothing, and develop a style that they could have for years following. Although there are many different styles at our school, alternative fashion is extremely popular. There are many different subcultures for alternative fashion, but one thing they all share is their extremity. "When I picture alternative fashion, the first thing I think of are words like emo, and edgy, but it's probably because I don't know much about it," said junior Adelaida Waller.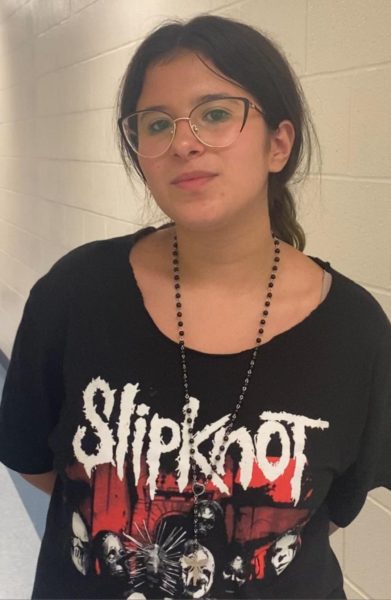 These words alone do not classify alternative fashion, especially since alternative styles are not always "emo and edgy," as Waller suggested. Those assumptions make styles like alternative fashion become less popular due to judgment from peers, or those who are not educated on the many subcultures connected to alternative fashion. A few of the many subcultures include gothic, punk, rock, metal, emo (which stands for emotional), and lolita. Most of the main alternative subcultures revolve around music. To classify as alternative people do not have to dress exactly like those who consider themselves alternative. That aside, the different subcultures have many differences, but some of the common colors found in their clothes, shoes, and jewelry are shades of brown, gray, green, red, and blue. 
"Black, white, pink, and blue, those are my favorite colors, and I love integrating them into my outfits. Also just mixing bright colors with darker colors in general," said freshman Clarissa Kimbrough, when asked about their usual color palette. The idea of mixing one's favorite colors with darker, more neutral colors is extremely common in the fashion world, and can be known to elevate an outfit. Frequent pieces in alternative fashions include ripped jeans, striped undershirts, printed t-shirts, fishnets, tights, dark-wash jeans, cargo pants, tall socks, finger-less gloves, and short, poofy skirts.
When asked about key pieces that define her style, eighth grader Lucia Serpe responded, "I would say like a ton of band T-shirts and any kind of baggy pants." A baggy pants and a printed t-shirt are a combination that can be put together with those two common pieces. This outfit can be put together and dressed up a lot due to its simplicity.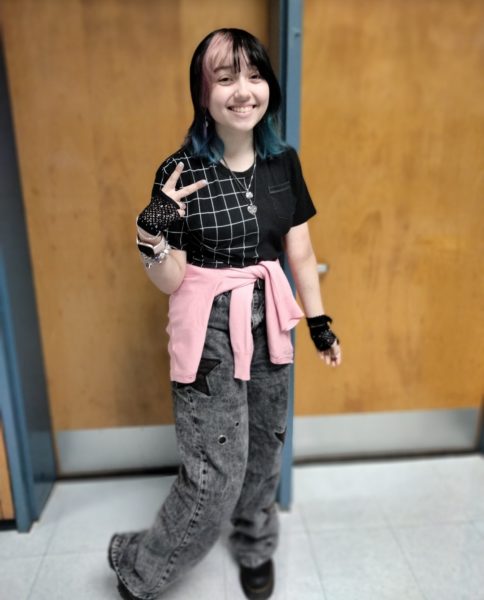 Layering is also common in the fashion world, but alternative outfits take layering to the next level. A common example of layering is pairing long-sleeved shirts with some sort of design underneath, typically a printed T-shirt or crop top. A few frequently-used style choices include fishnets or tights underneath ripped jeans, crop tops or t-shirts with cargo pants, Converse, platforms, and Doc Martens. Alone, those style choices may sound like everyday outfits, but what was not mentioned is the different ways that those who use alternative fashion elevate their outfits. 
Some popular prints that are commonly recognized in alternative fashions are skeleton-related designs, crosses, bats, hearts, and other gothic mascots such as gargoyles. Aside from prints and designs, another way to elevate one's outfit is jewelry. Jewelry is an extremely broad subject, but items like chains, long necklaces, chunky rings, spiked bracelets, and chokers are commonly used in alternative looks. Long necklaces are normally found with designs like crosses, bones, spikes, crystals, and hearts. Those designs can also be found on chokers. Just like it is with clothes, layering jewelry is extremely common. If one is looking to find alternative jewelry inspiration, apps like Pinterest, TikTok, and Etsy are helpful places to look.
Although alternative fashion has a rich history, and many subcultures, it can be easily found all over the school. Working to find one's style, and finding the perfect place to shop are both extremely personal, and difficult depending on the style one wishes to pursue. It's different for everybody, but if anyone has questions about trying to achieve this style, Google is a good spot to check, along with their peers. 
Story continues below advertisement