Robinson's Senior Traditions
Robinson has had many senior traditions throughout the years, including senior track painting, senior sunrise/sunset, senior night for sports, senior section at football games, senior skip days, senior assassin, class of '23 days, and senior parades. Senior Josie Layfield said, "senior traditions are fun things seniors get to do since it's their last year of high school and to celebrate our high school years coming to an end." These unforgettable traditions make senior year so much more special and everlasting. 
Senior Track Painting:
This color filled senior tradition usually takes place in August. "It [track painting] was the first senior thing we got to do; it made it all feel real," Senior Reese Koberg said. "Also, you're painting over the last senior's paintings, so it was like opening a new chapter by painting the track." Another senior, Reagan Nuffelman, shared, "track painting was my favorite. It was really fun because it was actually on my birthday and I got to go paint with my friends. We woke up early and went to Starbucks, got all the paint supplies, and just painted out in the sun. It got everyone excited for the first day of school that would happen a couple days later." A momentous activity that only a certain amount of students could partake in made their senior year even more memorable. 
Senior Sunrise/Sunset: 
Both senior sunrise and sunset involve the class of '23 coming together to celebrate their first and last days of school by watching the sunrise before the first day of school and the sunset on the last day of school. "It was a fun opportunity to hang out with a bunch of my friends at the start of the school year and it was a unique experience; it was memorable as the start of my last year at Robinson," said senior Zach Summer. Nuffelman shared, "We have a tradition of doing senior sunset, similar to senior sunrise, but on the last day of school, everybody will come and we'll watch the sunset together and have a picnic." Participating in this senior tradition marked the last first day of school for the senior class. "Senior sunrise was one of my favorite traditions because it was very soothing to sit outside with your friends in a chill environment. We all just laughed, had fun, and were ready to start senior year," said senior Ava Petty. 
Senior Night For Sports:
Every sport at Robinson holds a senior night as a way to celebrate the impact and achievements the seniors on that team have made. "For lacrosse senior night, the underclassmen decorate our cars the night before, they put balloons, and our shirts, sashes, and tiara's in there. We dress up all nice for school and we make the underclassmen wear funky stuff to school that day," Senior Emily O'Hearn stated. "In the evening, we walk down the football field and they [administrators] talk about each senior and what their plans are for next year; it's a really fun but sad time."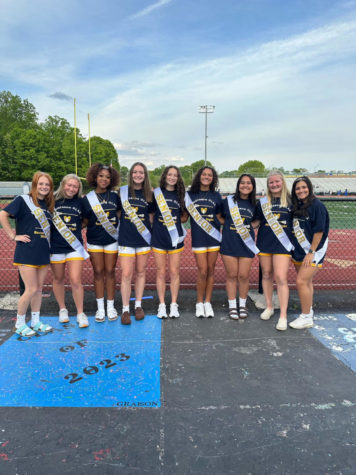 Layfield said, "I got to participate in senior night for golf with three other seniors. There was a little ceremony before one of our matches to celebrate us and our accomplishments on the team. We got to celebrate ourselves and all we've gone through – by dressing up and wearing our senior night shirts and receiving presents. It was very sentimental; our school year and our sports coming to an end." This special ceremony for the seniors creates an exceptional night that they will remember forever. 
Senior Hannah Giambastiani shared, "I loved my senior nights for my sports; I loved having the ceremonies and having my whole family be able to come and support me. They give us these medallions that said senior athlete and the principal comes and everyone gets to be shown off. There's posters and a lot of different things that make you feel special. Since your whole family gets to come, you can take pictures and the pictures obviously make it memorable because you can see those forever – just being able to celebrate with my best friends was fun." 
Senior Section at Football Games:
During the football season, the student section was filled with many students, with the seniors in the front leading the chants. For one of the football games this year, the theme was a gold out for pediatric cancer in support of Sadie Murata. Nuffelman said, "My favorite [tradition] were the football games, especially the gold out we did. We raised money and awareness for pediatric cancer and it was really sweet. We raised awareness for Sadie Murata, who was in our class of 2023, so that was really special for all the seniors to show appreciation towards her, spread the love, and spread awareness for childhood cancer." The seniors made the atmosphere of the football games more electrifyingly fun. 
Senior Skip Days:
During their last year of high school, seniors had skip days, meaning they skipped school on certain days to hang out with friends or have the day off. "I've really enjoyed the senior skip days that have been student run because I get to hang out with my friends outside of school and also it gives you a sense of independence because you're starting off and the fact that it's student-led makes it feel more independent and prepares you for college," said senior Ava McKay. Senior Avery Medd commented, "Senior skip days have been my favorite and are memorable because the whole class is doing it together and I think we're all trying to make the memories we can before we all leave, before graduation and everything." 
Class of '23 Days: 
On every 23 of the month, the seniors had 'Class of '23' days. "Our class counsel would come around the locker bay and give us all candy, we would wear your senior shirt, or sometimes we would have a spirit day to go along with that. It all brightened everybody's day and we got to hang out with our friends," shared Nuffelman. These particular days that took place throughout the year, made senior year more exciting . 
 Senior Assassin: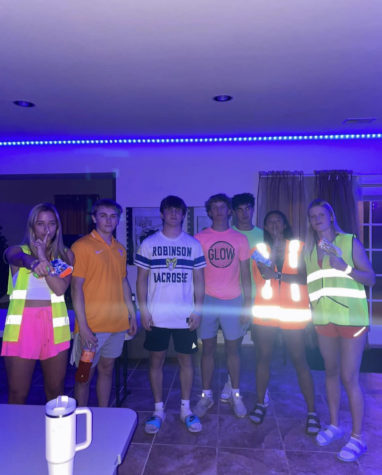 Senior assassin is a student-led tournament that the senior class began to play in mid-April, where they form teams and eliminate each other by getting surprisingly soaked by water . O'Hearn said, "senior assassin has been going good so far. It's a lot of fun; a lot of challenging things to do outside of school but it's fun to work with your friends and with your classmates one last time before you all leave." Senior Will Talley commented, "I haven't taken part in many senior traditions but I wished I had taken part in senior assassins because it looks like people are having a lot of fun with it." This student-led tournament allowed for the two last months of school before graduation thrilling.
Senior Parades: 
The graduating class of '23 walks through Robinson in addition to the elementary schools they graduated from. These elementary schools include Oak View, Laurel Ridge, Bonnie Brae, and Terra Centre Elementary Schools. "Senior parade would be really fun to participate in because it would be cool to see my friends. As well as, going back to my old school and thanking teachers that have taught me throughout the years and really contributed to who I am as a person, who helped me along that path and it would be nice to see those people that I established connections with many many years ago," shared Talley.
Many seniors shared their thoughts about senior traditions and about how meaningful they are. Giambastiani commented, "I think senior traditions are important and I want them to continue. They make senior year what it is and make it different from the rest of the years that we've had." Petty shared, "I definitely think they're [senior traditions] super therapeutic for people because sometimes transitioning into a different chapter is a little scary for people, so having something to remember and have good memories of instead of focusing on the nervous energy that you feel of getting into college – just focusing on things that celebrate that it's your last year; it's really nice." Senior John DeCrosta mentioned, "take advantage of senior traditions because you don't realize how fast the year goes by until the year is over." 
The senior traditions many participate in make their last year of high school unforgettable. "They're really fun and everyone should take part in them because they make your senior year even better. Senior year is the best and I've loved it so much," Nuffelman said. "I'm so grateful for everything that Robinson has taught me and allowed me to do, especially SGA." Robinson seniors can engage in these traditions to have fun and create lasting memories. Layfield suggested, "if you can participate in them, even though they may seem silly, they're a good way to get involved and do one more thing before you finish high school. I strongly encourage you to participate because they're a lot of fun." Senior Ava Thys stated, "take part in them because you will regret it, if you don't." McKay expressed, "try and participate in as much as you can because you only get one senior year and you only get high school senior traditions one time."