Chess Makes a Resurgence Into Everyday Life
A group of high schoolers sit around a table on their phones. But believe it or not, they aren't scrolling through their TikTok, or texting their friends; they're actually playing chess. The nearly one and a half millennia-old game has made a resurgence into everyday life. With popular chess services experiencing their daily participation double, the ancient game has been revitalized in the digital world.  
The origins of the game can be traced back all the way to sixth century India, where a similar two-person war game called Chaturanga became popular throughout Southern Asia. The name, in Sanskrit, translates to 'four arms,' specifically referring to ancient militaries, or infantries. While the history of the game is heavily debated, many historians believe that the game made its way to Europe via trade in the tenth century. Over the course of the next 1,000 years, the game has undergone dozens of rule changes and modifications, before becoming the modern chess that is known and played today.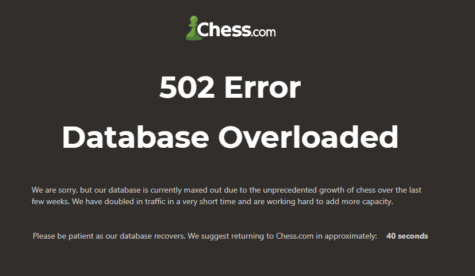 A glimpse into Google Trends can show that chess' incredible rise to nearly unprecedented levels is no coincidence. Beginning in March 2020, Chess has boomed. During times sequestered at home throughout the Covid pandemic, millions found themselves playing chess. No longer needing an in-person opponent has made the game accessible to anyone with an internet connection. The introduction of online games and tournaments has brought the 1,500-year old game back into an international spotlight, growing too fast for the servers to keep up. 
"Honestly, this sucks. We know you are here to play and enjoy chess, and it's very frustrating to be looking for a game and instead get a 502 (database connection) error, or have your game time out," reads a statement from Chess.com, responding to the overwhelming online traffic causing its servers to crash.
Popular YouTube channels like Gotham Chess and GMHikaru have seen subscriber increases as high as 2000% since November. The platform Chess.com saw a 200% increase in monthly users, with its total of games played in a single day peaking at almost 32 million in January. 
Robinson chess club member Michael Know is excited to see the rebirth of chess. "I love it," said Know. "It's very inspiring and educational, I think overall it's good for society." Experienced player Ammar Nadeem, a senior, echoed his enthusiasm for the game. "It's nice that chess is growing. I think it's good that people are getting into an intellectual game, it really makes you smarter."
While it's hard to imagine chess will continue at its current level of popularity, for now, it's certainly here to stay. In an increasingly online world, Chess.com has reintroduced the game to the minds and lives of millions. Those who are interested are welcome to join the Robinson chess club, or start playing online.