Elvis On Tour: A Little More Conversation About the 50th Anniversary
It's officially been 50 years since Elvis's legendary filmed concert tour, Elvis On Tour, was released in 1972 and produced by Metro Goldwyn Mayer (MGM). This tour consisted of a camera crew following Elvis and his band around on tour, and includes Elvis's reflection on his rise to stardom. Elvis traveled to 15 cities in 15 nights; starting from Buffalo, New York onto San Antonio, Texas, and so on. He embarked on this sold-out tour across the nation in April 1972. Elvis was both an awe-inspiring, hardworking person and performer; beginning in 1953 until his death in 1977. Junior Nicholas Oh said, "he left a mark; he changed the music industry. He set a precedent for future musicians as the King of Rock n' Roll." Elvis On Tour is available on Hulu, YouTube, Prime Video, and Roku. "I would love to watch Elvis On Tour because I would love to see what it was like to experience one of his concerts," said Junior Jacquelyn Fowler. 
Elvis was born as Elvis Aaron Presley in Tupelo, Mississippi on Jan. 8, 1935 to Gladys and Vernon Presley. He had an identical twin brother, Jessie Garon Presley, but he was stillborn. There is a cenotaph at Graceland, Elvis's home, but he is buried at Priceville Memorial Gardens in Tupelo next to his great aunt and uncle.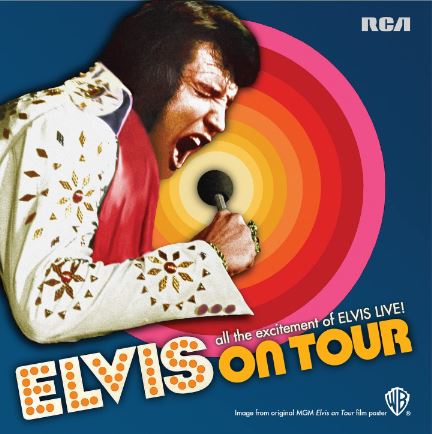 Though Elvis was raised in the "rougher part of town," that did not stop him from achieving his dream of becoming an entertainer and gaining the title the "King of Rock n' Roll." The stylistic musical inspiration for his music came from a local church congregation. His family was religious and they would often attend an Assembly of God church.
While on his tour, Elvis wore extravagant jumpsuits, a common outfit selection for him. He sported many colors, each covered in rhinestones, including a cape. These were designed by Bill Belew, a costume designer who designed many stars' stage outfits such as Ella Fitzgerald, Brooke Shields, and the Jacksons. Belew became Elvis's personal wardrobe and costume designer in June 1968. Presley's famous black leather jumpsuit for the 68' Comeback Special was designed by Belew. 
Throughout the film, Elvis is seen backstage warming-up for each show and speaking about how he feels before each performance. He said that he "never wants to get comfortable performing" because each performance is new to the audience and he didn't get into a routine. Also, he expressed that he still got stage fright and would not spend too much time backstage because of it. "I've never gotten over what they call stage fright. I go through it every show. I'm pretty concerned… I'm pretty much thinking about the show. I never get completely comfortable with it, and I don't let the people around me get comfortable with it, in that I remind them that it's a new crowd out there, it's a new audience, and they haven't seen us before. So it's got to be like the first time we go on," an excerpt from Elvis on Tour spoken by Elvis.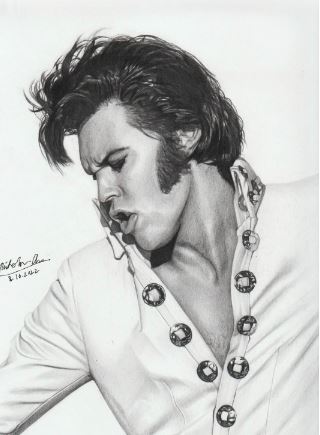 When offstage or after a show, Elvis would often sing gospel songs with his band. "We do two shows a night for five weeks. A lotta times we'll go upstairs and sing until daylight – gospel songs. We grew up with it…it more or less puts your mind at ease. It does mine," another excerpt from Elvis on Tour spoken by Elvis. This quote is speaking about the jam sessions they have every night to "wind down" from the excitement of the live shows. On stage, Elvis was energetic and comical. One of his most well-known dance moves is "Rubber Legs." Supposedly, Elvis was so nervous to perform in front of a crowd that his legs began to shake. While the instrumental parts of the songs played, he would move back on the stage and dance. Junior Ben Gilmore said "he had a different style of music and dance from that time." 
Elvis's music is liked by many fans-young and old. Gilmore said, "I love his music; I've listened to it since I was little because my grandma is a huge fan, so my entire family are big Elvis fans." Fowler said "I really like how his music sounds; I like the rhythm of his music."Oh said, "He was such a talented musician; he was the first of his kind. The way he moved, his voice, the way he dressed, the way he performed- all those factors together made him stand out. Especially in his time frame. Even now people still look back at him because of everything he did; he stood out." 
Elvis had a big influence on history and music and he still does! A new Elvis biopic, Elvis, was released on June 24, 2022 and was directed by Baz Luhrmann. Elvis was played by Austin Butler. The movie takes the audience throughout his life as a singer, focusing on his complicated relationship with his manager, Colonel Tom Parker, and his rise to stardom, that would last from the 1950s to the mid-late 1970s. "I thought the movie was amazing," said Oh." The screenplay was portrayed so well, especially the main actor. They did a really good job bringing Elvis back to life. They brought the 'old days' back to life." Dancing with the Stars dedicated an entire night to Elvis, "Elvis Night", where the stars rocked and rolled to his iconic music. In addition, Elvis has a channel dedicated just for his music on SiriusXM Radio. Elvis's name and high stature continues to live on now and will continue long into the future.