The Beginning of the End
As the last year of high school begins for the class of 2023, seniors start to navigate the emotions and reflections that come along with the end of a high school experience. Senior year is an important year that contributes to students' futures through college applications and decisions. In the midst of stress and excitement, a range of emotions are common among seniors. "My senior year is…I'd call it like bittersweet chocolate," said senior John DeCrosta. "You're excited that you're about to graduate soon, but I mean also I've spent my whole life in Virginia, all my years at Robinson, so it's a little bitter to be leaving…" Although it can be stressful, senior year is filled with  traditions and memories that will last lifetimes, like the senior sunrise and the senior track squares.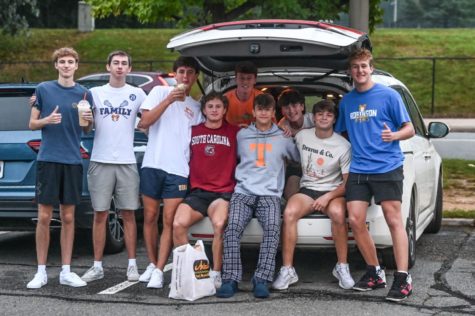 The annual senior sunrise was held on the first day of school, Aug. 22, 2022. Dozens of students attended to celebrate the first day of senior year at Robinson. Starting at 6:30 a.m., seniors were encouraged to bring coffee, breakfast, and blankets to enjoy the last hours of summer vacation. While the sun may not have emerged behind the dark morning clouds, the students had a great time regardless, enjoying their "last first day" as Robinson students.
Senior Kelly Maida had a good time enjoying her friends' company. "It was good seeing people that I hadn't seen over the summer," said Maida. Lots of friends reconnected with classmates they had not seen since the last school year ended in June. Senior Noah Stein said, "it was nice knowing that we were all together. It's like the start of a new journey." The journey in question, of course, refers to the future that awaits students after their time in high school is complete. While maybe daunting, the morning together helped remind students that they all will approach it together.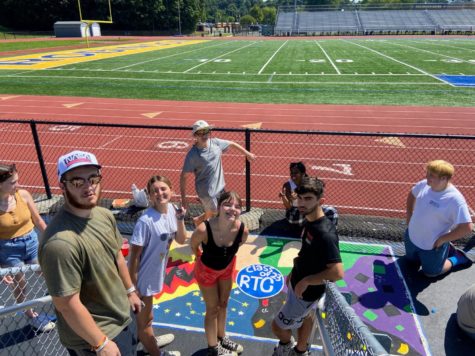 Another annual tradition the class of 2023 could take part in was the painting of senior track squares. A variety of squares can be found down at the Robinson football field sidewalk. Sports, clubs, sayings, and everything in between, were among the hand-painted designs. Aug. 19, 2022, just a few days before the beginning of the new school year, was the first day to participate, with a second day after school on the 22nd. Seniors hauled in supplies and brought their creative ideas in preparation to paint. 
Sydney Metzger and Abby Camp were among the many seniors who participated in the event. Metzger painted Yearbook and Hollywood stars' track squares with a group of her friends, while Camp helped to paint a class of 2023 Rambunctious Theater Club square. Although not exclusively for seniors, football games are among the activities some seniors enjoy and look forward to as the year goes on.  One of John DeCrosta's favorite high school memories has been the nighttime atmosphere after football games.        
Senior traditions are a huge part of senior year. However, college applications and the stress of the unknowns of life after high school, play a major factor in the class of 2023's actions and emotions. "I'm definitely feeling good," said Camp. "It feels like I've been waiting for this moment for awhile, but it's nice because it just feels like I really know what I'm doing except for college, that's been stressing me out, but I feel like that's stressing everyone out." Looking back at their years in not only high school, but grade level too, seniors have learned lessons that will prepare them for life outside of Robinson.  
While giving advice, Metzger said, "don't procrastinate. Get your stuff done by the deadlines. …during my junior year I got so stressed with a bunch of my work and so I know that as soon as you get an assignment, write it down and get it done that night so you feel accomplished that you got something done. It's great to have that feeling." On the same topic of getting work done, DeCrosta said, "put your head down and work." Moving out of the school related advice, "I think I've learned that if you're self sufficient, life will just be easier for you and just to kind of keep track of the things that affect you and don't worry about the things you can't control," said Camp.      
Through it all, the class of 2023 will navigate the highs and lows that come along with senior year. Teachers and staff wish the class of 2023 and the rest of Robinson a fantastic school year!