Student Library Advisory Team
The Student Library Advisory Team is a new club starting at Robinson. The team is going to assist librarians in planning events, get involved with daily activities, and give their input about improvements to the library space. "Part of that process will be to crowdsource members of the committee," said librarian Kimberly Reakes Smith. "We want to hear from students. We, as librarians, spend time collaborating and trying to reach out to Robinson as a community, but it's important to have student voice in that process, so we won't know until we hear from the people who are on it." The club will meet either during raise or after school at least once a month.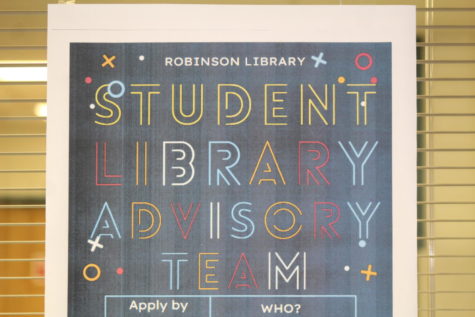 Applications for the team are due March 11, through the library Schoology course, and all students grade 7-11 can apply. Two candidates will be selected from each grade level to be a part of the team by March 18. The students will be chosen based on their interest in the library and ideas for implementation. "We're looking for students who love the library and like to spend time here already, so students who have opinions and ideas, who are self-starters, and who work well with others, or who are looking to develop those skills," said librarian Ellen Bickford. 
The library plans on continuing the Student Library Advisory Team in the future. Although only ten applicants will be selected this year, the librarians hope to grow the program in the coming years. The library also aspires to create separate clubs for both the middle school and high school to allow the interests of all students to be heard.