A New Hope: the Coronavirus Vaccine
    After months of battling the Coronavirus through social distancing, wearing masks, and washing hands, there's hope that normalcy will return soon. Scientists have been working on various vaccines in order to slow the spread of the pandemic. There are two authorized vaccines being distributed throughout the world: the Pfizer and Moderna vaccines. Knowing what Fairfax County is doing regarding vaccinations, identifying the risks plus benefits, and knowing how many people must get vaccinated in order for society to return to normal, is important. 
    The Fairfax County Health Department and Human Services System works to protect, promote, and improve the health and quality of life for all those in the community. As of Feb. 14, 2021, 15,901 people have been vaccinated by the Fairfax County Health Department. At the moment vaccination registrations are open to Fairfax Health District residents over 65, people ages 16-64 with underlying health conditions, and frontline healthcare workers and teachers. Information like Vaccine registrations and updated vaccination statistics can be found on the Fairfax County Health Department website, https://www.fairfaxcounty.gov/health/fairfax-county-health-department.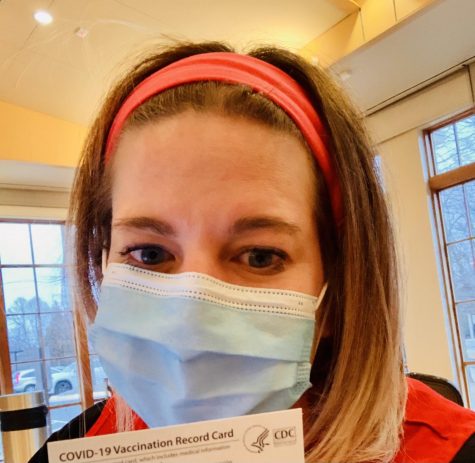 Christine Notarianni works for the Fairfax County Health Department and recently started distributing vaccines toothers. "I like being able to make a difference and fight COVID and have a way to hopefully end this," Notarianni said. At first Notarianni was concerned about getting vaccinated because she is nursing her baby. However, after weighing the pros and cons, she decided it was the best decision for her, her family, and the world as a whole to get back to normalcy. She believes that others should get the vaccine when given the opportunity because "it's the best chance we have of getting our lives back to normal and being able to see people, and see family, and travel."
    According to WBUR News, "when the virus is surrounded by people who are vaccinated, it has nowhere to go, thus outbreaks are suppressed." There are many different predictions as to when life will go back to normal, but most sources say that at least 50-75 percent  of people will need to be vaccinated in order for us to see a measurable amount of change. 68 year old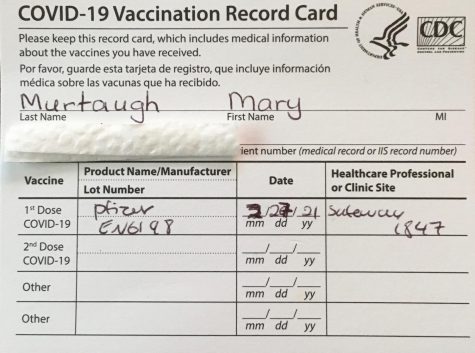 Mary Murtaugh says that she would rather get the vaccine because she believes the risk is higher if you don't. She's hoping to get the vaccine within a couple months. It's important to note that in order to see a significant amount of change, it will take time.
    A sore arm, swelling around the injection site, low fever, body aches, headache, and chills, are some possible side effects of the COVID vaccines. However, the possible side effects when one contracts COVID-19 can be similar or worse depending on the person. "I'd rather risk the unknown of the vaccine versus the unknown of getting COVID and risk spreading it to my elderly mom and my children," said Jen Lewandowski, answering why she chose to get the vaccine. For both Lewandowski's first and second doses, she had a severely sore arm and joint pain, but she said it was worth it to become more protected from the virus. Before dismissing the thought of getting vaccinated, make sure to look at the pros and cons of the vaccines and COVID before making a decision.