Robinson Senior Squares Vandalized for the Second Time in Just Two Months
Hang on for a minute...we're trying to find some more stories you might like.
On September 15, senior Olivia Womble tweeted a video of the senior squares located on the pavement near the bleachers of Robinson's football stadium. Womble captioned the tweet, "At this point I'm speaking on behalf of most of Robinson's class of 2020. Vandalism isn't cute." There are a lot of unknown variables regarding who vandalized the squares and when, as well as why they did so.  According to Assistant Administrative Principle William Evers, Robinson does not keep cameras on the football field, further obscuring any opportunity the administration has to find their culprit. The missing details surrounding the crime have students and faculty asking "whodunnit?"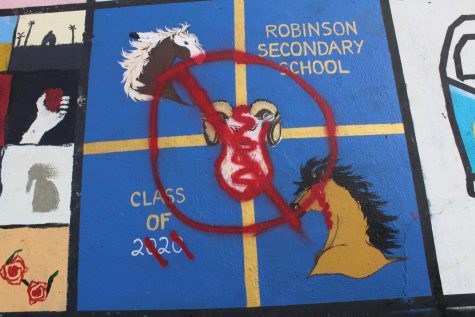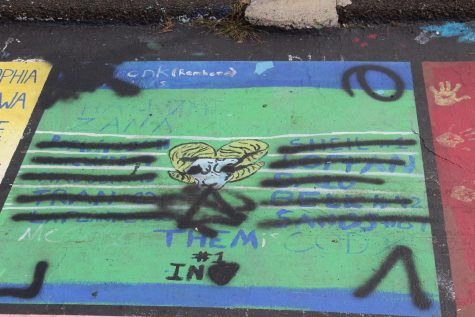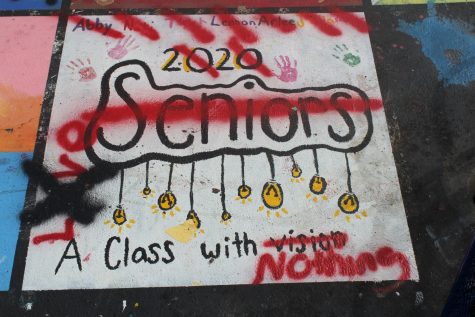 This wasn't the first instance of vandals targeting students' senior squares. In the first vandalism incident, the vandals left hand prints along with other unique shapes across blacktop. This time, however, the vandals painted over the majority of the squares in red and black paint, inscribing ominous messages with seemingly random words: some read "cool", "stop", or "why?" while others simply crossed out every zero in 2020 and  the student names. The vandals also used a stencil to create images of rams, which they subsequently crossed out, presumably in protest of Robinson. This change in artistic tone gives credence to the notion that these two occurrences were carried out by different people.
The greatest impact the event has had has been deterring Teams and students from repainting senior squares. Womble believes that this won't be the last time that the squares are vandalized. After working for three hours to create their square, the second vandalism left Womble and her volleyball teammates discouraged, which lead the disheartened team to choose not to repaint their square to avoid giving the vandals the motive to do so again. The lack of details surrounding the vandalism incident leaves many students confused and worried.  There remains hope that the vandalism performed against these hallmarks of school spirit and team camaraderie does not quell the enthusiasm that Robinson brings to every game they play.