Black Mirror Review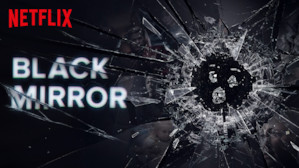 Since its was released in 2011, Black Mirror has captivated audiences with countless original concepts that are fitted into unique episodes, no two of which are the same. Black Mirror is a Netflix original science fiction series created by Charlie Brooker. It focuses on the potential outcome of testing the limits of technology and how far science can go. This series can be compared to The Twilight Zone, as each episode consists of unique plot lines and a fair amount of twists and turns. With its fifth season fast approaching, another look is being taken at the compelling series.
Overall, Black Mirror is a complex, interesting show with fairly simple, and relevant themes. Although each individual episode has some mystery to it and understanding the message may take some digging, each story shares the same idea: Corruption of technology could lead to an unrecognizable world in the near future. It is not uncommon for the end of a Black Mirror episode to leave the viewer with unanswered questions; the goal of the show is to get one to think and reevaluate views on technology as well as the future itself.
Black Mirror doesn't hold back when exploring new concepts. The violent, mature themes occasionally dominate episodes in a way that is both thrilling as well as disturbing, but the show never fails to entertain. As episodes vary, there is never a lack of new material or creative ideas. There are more differences than just the stories of each character in each episode: In every aspect when looking at stylistic choices, actors, and subject matter, the show has no limits. The writers of each episode don't bother putting a filter on the topics they explore, and the intensity of each topic is clear.
When watching Black Mirror you better be willing to open your eyes to a world of possibilities of what the future could look like in just a matter of time.