Bad Neighbor Review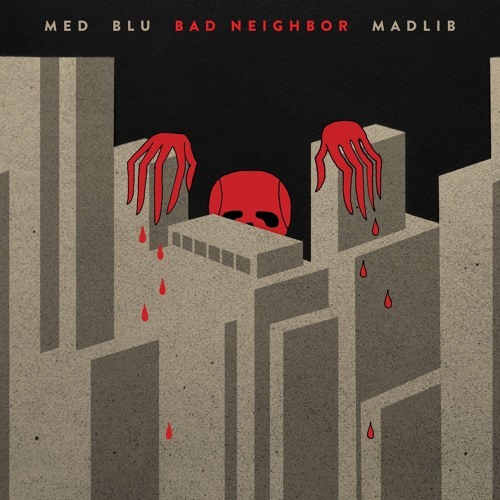 Bad Neighbor is the latest project from legendary hip hop producer Madlib (Madvillainy, The Unseen) and showcases a collaboration with West Coast MCs MED and Blu. The album has received a fair amount of hype preceding its release, namely after its premiere single "Knock Knock" dropped.
The album is packed full of classic eccentric Madlib instrumentals with distorted soul vocals and looping pitch shifts abound. Additionally, Bad Neighbor boasts an impressive features list, seeing Aloe Blacc, Hodgy Beats of Odd Future fame, and even the rap supervillain MF DOOM himself. Blu and MED both put on a solid performance with their flows and clever lyrics, but seem hesitant to try anything new or experimental.
The biggest issue found in Bad Neighbor is its occasionally questionable sound mixing, a surprising issue considering the producing prowess it possesses. At times during the album Blu and MED's flow will be muddled by their song's excessively loud beats. There is nothing wrong with Lo-Fi production or drowning vocals in hip hop but in Bad Neighbor's case it seems more akin to the muffled mess of Tyler the Creator's Cherry Bomb than the powerful impact of say Death Grips' Money Store. Additionally, Bad Neighbor's tracklist is somewhat bloated due to the inclusion of filler tracks like "Burgundy Whip" and "Birds". These tracks aren't necessarily bad but are largely just average and make the stretch between the albums big hits a bit of a slog.
Favorite Tracks:
Knock Knock (Feat. MF DOOM) : Since the resounding success of Madvillainy back in 2004 it has been apparent that Madlib beats and DOOM's flow go together like peanut butter and jelly. In "Knock Knock" MED and Blu take a backseat as the Metal Faced legend kills a vibing funk instrumental.
Drive In (Feat. Aloe Blacc) : "Drive In" might just be a career highlight for Madlib and is undeniably the best track on Bad Neighbor. The pitched up R&B sample that loops throughout the song is what good vibes are made of and is accented by an array of sweet plucky strings and warm piano tunes. MED and Blu both put out amazing flows which melt wondrously into the sepia filter of Madlib's instrumental. Additionally, Aloe Blacc delivers an incredibly soulful guest chorus with an absolutely incredible harmony alongside Madlib's pitched up instrumental.
Overall Rating: 7