"Retrohash" is retrotrash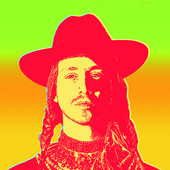 Asher Roth, like many rappers of his generation, started out as the quintessential party rapper, his top single, "I Love College", is synonymous with the party-animal subculture of Caucasian rapping.  In 2009, Asher Roth released his debut studio album, "Asleep in the Bread Aisle", for which he was nominated for two MTV Music Awards.  This album was on the path of rappers such as Mac Miller, who have released debut albums along the subject of college and such.  However, Roth, like many, is eager to show that he isn't just about the frat-boy lifestyle, as he tries to show in his second studio album, "Retrohash".
"Retrohash", in the end, was not the breakout album many expected from the Pennsylvanian rapper, as Roth tried to show too many sides of himself.  In the singles he released before the album itself, the listener can already see he is almost at war with himself.  For instance, "Fast Life" is of the style championed by Macklemore: a minimalistic beat with a good hook and conscientious lyrics.  However, "Tangerine Girl" is almost the exact opposite, with Roth almost clinging to his frat-boy past.
In the album itself, the war continues.  The first track, "Parties at the Disco", sounds a little like Drake's masterpiece "Hold On, We're Going Home" but without Drake's touch.  Then, Roth comes back on his second track, "Dude" with a Tyler, the Creator like vibe, which does not at all suit Asher Roth.  After that point, the tracks become the same (with the exception of the two singles), and the lyrics and beats blend together to create songs that the album's name befits, which is to say, songs about drugs and partying.  Overall, Roth is not able to get across the growth he is so desperate to show.
Even on the mixtapes between his two studio albums, Roth is able to show that he has grown past "Asleep in the Bread Aisle."  But, somehow, in his sophomore effort, the measuring stick to show his growth, Roth falls extremely flat.  Perhaps, in a third studio album, he can decide on a path he wants to follow and follow it but, for now, Asher Roth, the listener is disappointed.