Famous Substitute Mrs. Dunnum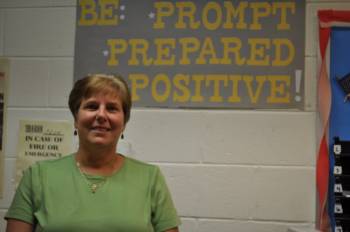 A student's day would be made if they walked into their classroom to see a substitute teacher standing at the front of the class.
 Substitute teacher Jayne Dunnum, has been subbing for teachers at Robinson and Lake Braddock for 18 years. She decided on these two schools because they were close to home and there is a demand for substitute teachers.
 "I enjoy my time [at Robinson], I have very little behavior problems, I don't put up with a lot of stuff from the kids," Dunnum said. "And the teachers know that I'm going to implement the plans that they left whether it is simple or complicated, they trust me."
 Dunnum chose substituting instead of teaching because when the day was over she didn't have to grade papers and she still had time to spend with her children.
 "It gets my days filled, my months filled and weeks filled; which is perfect," Dunnum said.  
 Dunnum said she is a military wife and decided to stay at home while her husband was either working or deployed.
 "It fits my lifestyle…I was widowed and so this is really nice to get up in the morning and have somewhere to go, and people to be around both teachers and students and to not be home alone and still hoping making a difference in kids' life," Dunnum said.
 In her years at Robinson, Dunnum admits she has seen some negative changes in the educational environment.
 "I've definitely, in the eighteen years [since] I've moved here, seen a definite change in children. Some of it not so good: lack of motivation and doing things in the community," Dunnum said.
 Although Dunnum says she has seen negative changes in her years, she also said she has noticed positive changes. "Kids are striving to learn more, the talent from this building…such a talented group of people across the board. Not just athletics, not just music."
 Dunnum has subbed everything from gym to math, but she said she prefers social studies.
 Sophomore Nick Western, once had Dunnum as a History substitute, said "Dunnum is so nice and she really cares. "She's really more outgoing and she definitely puts herself more out there than other substitutes. She feels like a part of the Robinson family, which other substitutes really don't do."
 Dunnum said she plans to continue subbing.
  "I think we're just fortunate to have a genuine caring community and after what happened with Coach G, how important it is to realize that people like himself, myself  and other teachers…" Dunnum said. "We're in this business to help and influence young people. So you guys are our lives. "