Villa Bella
We sampled various dishes at the Villa Bella in the Burke Commons shopping center. This restaurant is a brick oven-pizzeria which specializes in Italian food. Read on to learn what to order and what to avoid.
Hawaiian Pizza $12.75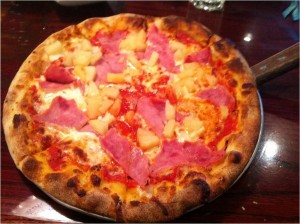 This pizza is something to talk about. The salty flavor of ham dances with the sweet pineapple in a brilliant combination that leaves an impression. If you're ever looking for something out of the ordinary, this pizza is the way to go. The toppings sit perfectly on top with every bite, and it never gets tiring. (3 Stars out of 3 Stars)
Calzone Ricotta $9.00
A simple yet satisfying choice, this calzone is a classic that works for any appetite. The crust on this dish is crisp and delicious all around, and the melted mozzarella and creamy ricotta inside only enhance the taste. Paired with Villa Bella's unique marinara sauce, the Calzone Ricotta is a dish to be revered by all others.  (3 Stars out of 3 Stars)
Bow-Tie with Alfredo Sauce and Vegetables $12.50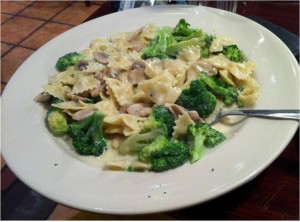 If you're looking for a dish that's on the healthy side, go for this pasta. The satisfying texture of the bow-tie pasta, along with the fresh mushrooms and broccoli, creates a unique dish that is only helped by the alfredo sauce. While the vegetables are a little too soft, they don't hinder the dish as a whole. (2 Stars out of 3 Stars)
Location: 6050 Burke Commons Road Burke, Virginia 22015
Hours: Monday-Thursday, Sun,: 11 a.m- 9:30 p.m.
Friday-Saturday: 11 a.m. 10:30 p.m.