A Joyous Chorus Concert
Advertisement
Hang on for a minute...we're trying to find some more stories you might like.
Excited, nervous and confident were just a few of the feelings the chorus students felt before taking the stage. On Dec. 19, the chorus took the stage to perform in Russell Theater at 7 p.m. for their winter concert: A Joyous Sound.
The school is home to five different choruses: Men's chorus, Treble Ensemble, Women's Camerata, Select Women's Ensemble and Robinson Singers. Auditions and vocal capabilities of singers determine the composition of these groups.
On their concert night, the chorus lined up around the stage and on the isles around the seats. The girls wore black floor length dresses and the boys wore suits with bow ties. For the first two songs, all the chorus students sang together. Later, the Treble Ensemble sang, followed by the Women's Camerata, the Man choir, with the Men of Robinson, the Select Women's Ensemble, Robinson Singers, and lastly, the Combined Choirs and Alumni.
Each choir sang three songs, with multiple holiday songs scattered throughout the evening. A few of the songs had music instruments incorporated in them.  
"Their [upperclassmen] performances were phenomenal, and it made me think I might be performing like them one day," freshman Nina Avedissian said.
During the transitions where one chorus would leave the stage and another would take it, a few strings students came out and played music.
The Men of Robinson had something a little different happen. The dads and brothers went on the stage with them, all dressed up like pirates. Chorus director Michael Horanski put a Pirates baseball jersey on and a pirate hat. There was a blow-up pirate on stage to join in the fun. Even principal Dan Meier took the stage dressed up in a full pirate costume and sang along. This song was called "Pirate song," and garnered many laughs from the audience.
For the last song of the concert, the alumni took the stage with the chorus and sang "The Very Best Time of Year."
During class, the chorus students work on their music in preparation for events such as A Joyous Sound. Horanski teaches the students singing techniques, occasionally dividing them into groups so each student can help their peers improve their performance skills.
"It's a really laid back but focused environment to be in," sophomore Molly Wise said.
Getting ready to perform is one thing, but actually getting onstage and doing so is different from singing in class.
"You just have to get in the right mindset that it's going to be fun and not scary and you're not going to mess up," junior Christina Dougherty said.
Wise said she is excited and anxious before she goes on stage, but when her feet hit the stage, her energy turns into focus.
Horanski said the concert showed how much work the students have put in this year.
"It is one of the greatest joys to hear and see the students singing and responding to my direction," Horanski said. "It is also wonderful to see the look of accomplishment on everyone's face when they realize the hard work has paid off."

About the Writer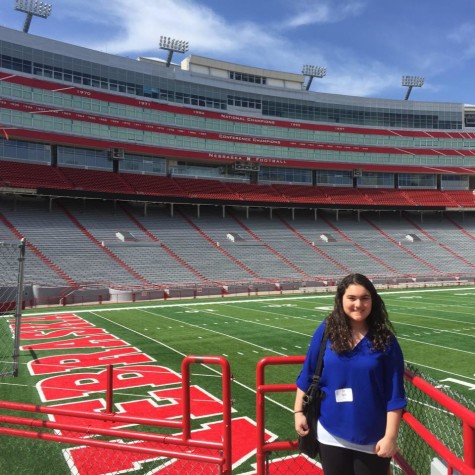 Sara Kline, Editor-In-Chief