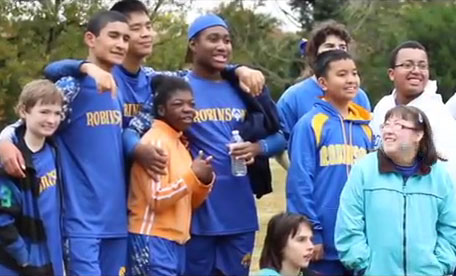 The annual Special Olympics FanQuest event is here. There will be two games this year, the first starting at 6:45 p.m. this Saturday. The tailgate begins at 5:30. The medal ceremony will be at 8:25.
The athletes have been preparing for the big day. "The JV basketball team goes to the Special Olympic practices and we help them run their drills and learn the offense and the defense," said JV player Molly Gould. The girls basketball JV team will be helping out during the game and encouraging the players, along with the rest of the Robinson program.
"It's electric. It's a very engaging audience," said Abby Schaaf, FanQuest team coach. "Last year they said we had around 4,000 fans. So it's very loud, it's very exciting. Everybody cheers for both teams, it doesn't matter what the score is, so it's a very inclusive environment and you really can't leave that gym without a smile on your face.
Schaaf, who is in her fourth year as a Special Olympics coach, said the players prepared for Saturday's games by practicing once a week and by watching videos from last year's event. Players also watched one of Saturday's opponents, Woodson, play in a recent tournament.
"It just is a life changing event for people to see and for our athletes to experience as well as with their families," she said.
Bonnie Guarrasi was a FanQuest athlete last year, and she said it's her favorite part of the Special Olympics program. "I've been wearing the bows that I got for my birthday last year," she said. "One is blue and one is gold. Just like Robinson colors. I like it when I have the most Robinson Rams blue and gold spirit."
For Maceo Snowden, Saturday will be his third year of participating in FanQuest and it's something that he looks forward to all year. "Basketball's my favorite sport," he said.
Freshman Avery Fister, a member of the JV basketball team, said FanQuest is a great event for the athletes and the audience. "Because it's an awesome experience to support your Special Olympics team," she said. "It's free and it's just a lot of fun. There's a whole hype section like a hype squad and everyone is just happy and supporting everyone."